Meet our experienced team of Farm Vets at Mount Vets in Wellington, Wiveliscombe and Broadhembury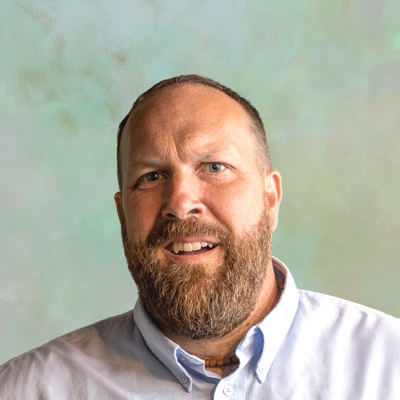 Piers
Pepperell
BVM&S MRCVS Director
Piers Pepperell has been with the Mount for over a decade and became a partner in 2008. His whole herd "from field to yield " approach has led to many major successes on a range of farms, big and small, organic and conventional. He is a qualified cow signals trainer and regularly teaches at Agricultural colleges. He also bakes a very good cake!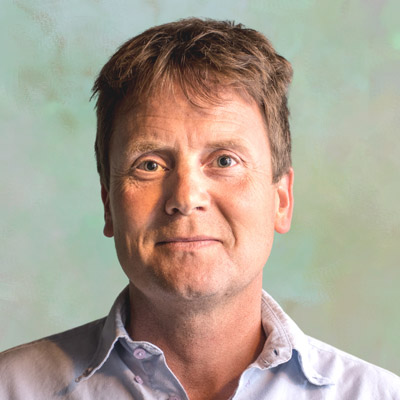 Alastair
Caygill
BVM&S MRCVS Director
Alastair Caygill started his career at the Mount back in the 1990s, and has been a large animal partner for several years. His key interest is in herd disease control and Alastair regularly lectures to farmers on key issues such as BVD and Johnes. He claims that the complexities of disease management pale into insignificance however, when compared with trying to control his herd of three young children!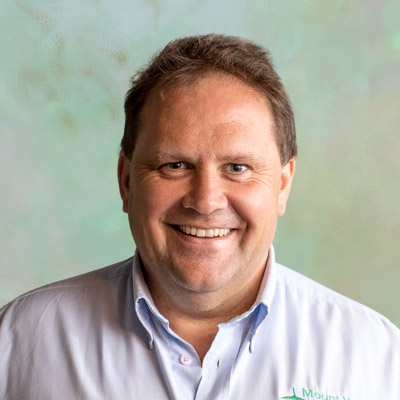 Stuart
Young
BSc (Hons) BVetMed MRCVS Director
Stuart Young merged his company with Mount vets in 2011 after we had worked closely together for some time. As well as being a qualified vet, he also has a degree in farm animal nutrition which means he is in charge of the nutrition for several large dairy farms as well as managing their herds health. He is heavily involved in education, regularly running courses for beef, dairy and chicken farmers and lecturing at the Royal college of veterinary surgeons in London.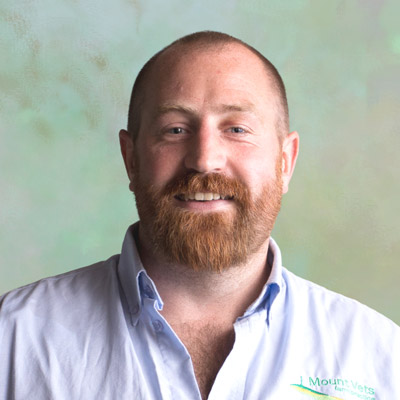 Rob
Mangham
BVSc BSc(Hons) CertAVP PgCertVBM MRCVS Director
Robert Mangham a Bristol University graduate, qualified in 2010 with a degree in Veterinary Science and Pharmacology. He has a particular interest in ruminant surgery, dairy management and young stock production.  In 2018 Rob gained his Certificate in Advanced Veterinary Practice and became a Partner at the Mount.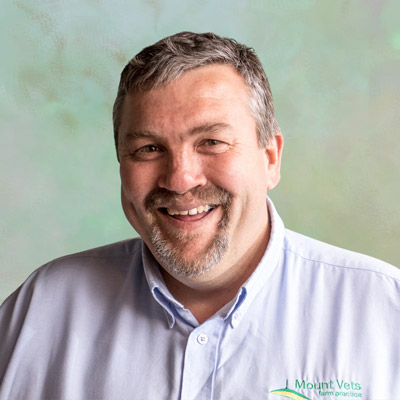 David Balch came to England on a 2 year sabbatical, from Australia, back in 2001. After 5 years in Ledbury, he married the receptionist and moved down to the Mount to specialise in cattle medicine and surgery. 10 years on, his sabbatical shows no signs of ending and he now claims to always support England, unless they're playing against Australia!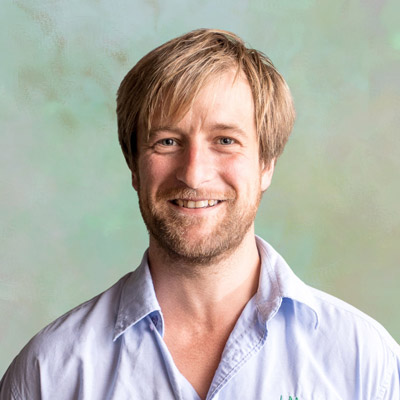 Alastair Winearls joins us after three years cutting his teeth as a mixed vet in rural Somerset. He has always wanted to specialise in cattle work and has also developed a keen interest in sheep flock management. He regularly teaches courses on better shepherding and basic sheep husbandry. When not vetting he is a keen sea kayaker and fisherman, which is probably the only thing he could do to make himself smell worse than after a hard days work!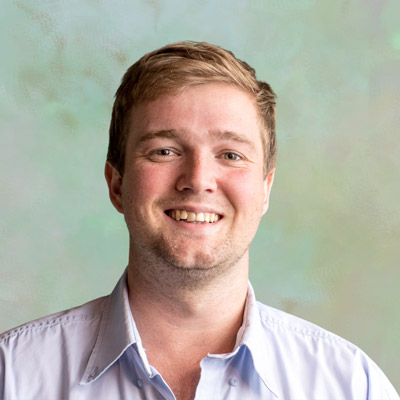 Ollie joined the practice in the summer of 2016 having graduated from the University of Bristol in the same year. He enjoys all aspects of being a large animal vet and has a particular interest in infectious diseases, especially TB. Ollie is a trained TBAS advisor and is currently studying towards a Certificate in Advanced Veterinary Practice. Outside of work, Ollie can be found playing or watching a multitude of sports, and is one of the only Bath Rugby supporters in the area which is often a source of frustration for his Exeter supporting wife.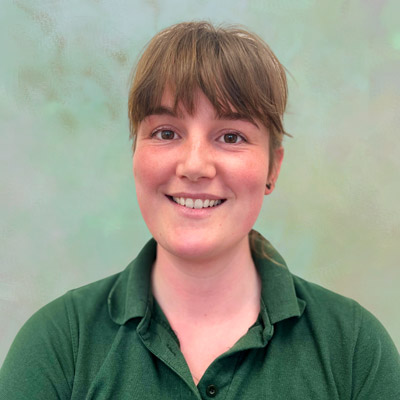 Pip may well be a familiar face to many of our clients, having been seen in practice with us for 10 years prior to her graduating as top student in her year from the University of Surrey. Pip joined the Mount Vets team in August 2019 and is keen to get involved in all areas of large animal veterinary. Somerset born and bred, Pip's family farm is not far from Wellington. They run both a dairy and pedigree British Blue herd, the latter of which has put multiple bulls on AI studs both here and in Ireland. In her spare time Pip can be found in the show ring with her cattle or hiking.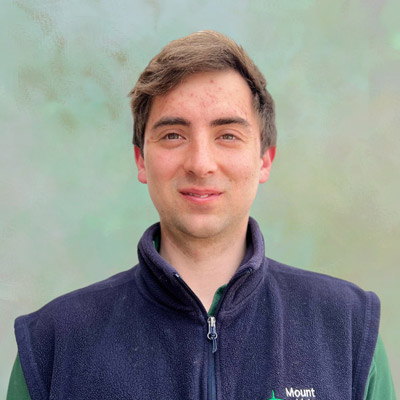 Al joined Mount Vets at the end of September 2020 having graduated from the Royal Veterinary College (RVC) in London in June 2019. He loves working outside and meeting lots of different people, as well as the sciency bit too! Al is a cricket and cycling fanatic, enjoying surfing and walking his dog 'Dutch' at home on Dartmoor. He also has a cat called Malcolm.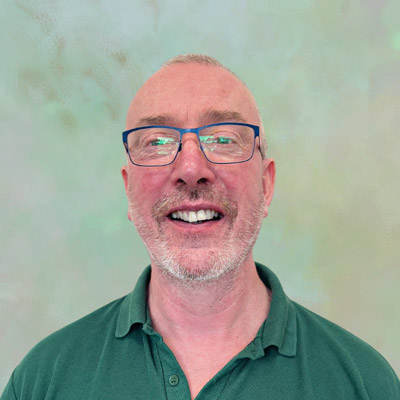 Tony is originally from a beef farm in N Ireland. He has spent all his career in farm animal practice, mainly in the SW of England, but with stints in New Zealand and, more recently, Orkney. He enjoys working alongside our farm clients to help them maximise their farm potential. Outside of work he enjoys cycling and playing various bass guitars!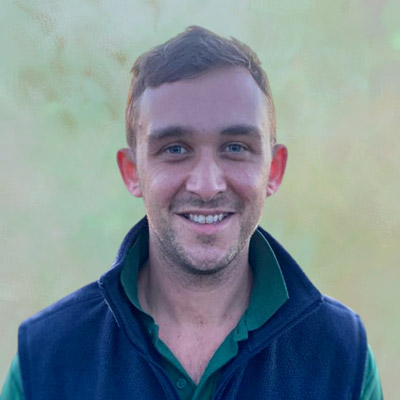 Fin
Jennings
Approved Tuberculin Tester & Veterinary Technician
Fin has spent most of his working life as a farmer, which has taken him all over the world. He is now looking forward to his new challenge as an ATT (Approved Tuberculin Tester). In addition to TB testing, Fin has many Vet Tech roles that allow him to work closely with our cattle, sheep and poultry clients. He enjoys walking his dog 'Levi', Young Farmers events and supporting Exeter Chiefs.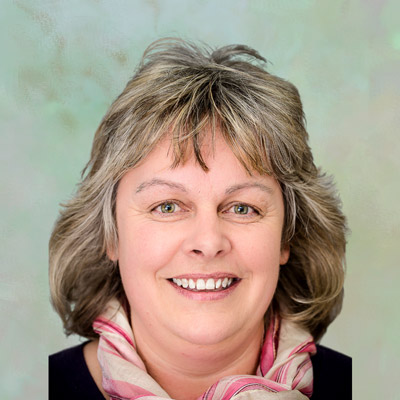 Hazel
Buttle
Large Animal Department Manager
Hazel has been with Mount Vets for many years. She keeps the farm department running efficiently and takes good care of us all.
She enjoys life at home with her family, walking the dog and cooking. She also swims regularly in the sea all year round.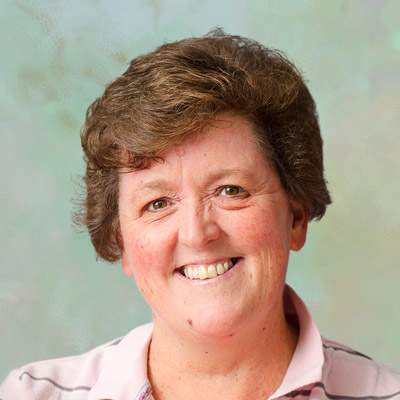 Julie
Shovel
Large Animal co-ordinator
Julie has been with Mount Vets for 10 years. She arranges the vets work and makes sure that they are always organised. This is no mean feat with 10 vets and an ATT to keep busy.
She enjoys walking with her dogs and gardening. Her camper van enables her to go off exploring areas all over the country.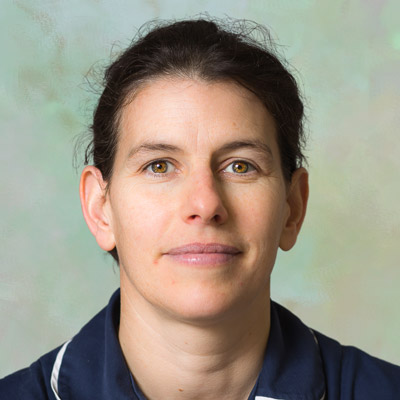 Ali
Bolton
Large Animal co-ordinator
Ali has been with Mount Vets for 10 years making sure that our farm dept pharmacy is always running smoothly.
She enjoys life at home with her family and looking after her pedigree flock of Lleyns. Ali is also passionate about all thing's wool and dyeing her own yarn.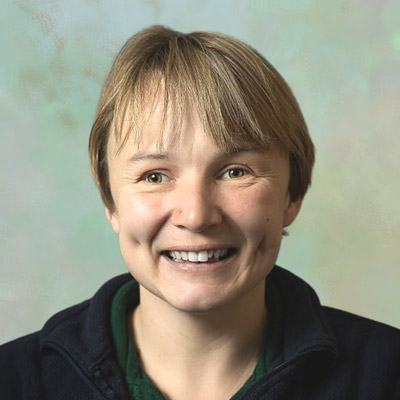 Kerry
Chave
Large Animal Receptionist/co-ordinator
Kerry joined Mount Vets in 2019 and you will find her answering phones, booking work, and making sure that the vets are in the right place at the right time.
She enjoys life at home helping with the family farm and riding her pony "Jack"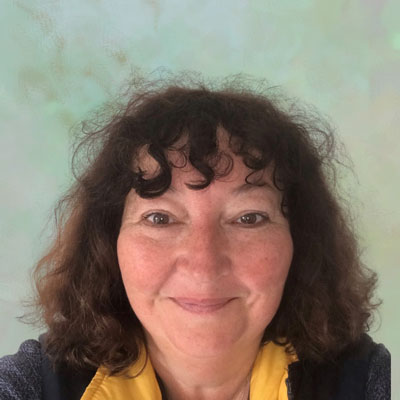 Gail has been with Mount Vets for 10 years, moving across when her husband Stuart joined the practice. Gail manages the Colliton practice and works predominantly on the finance side.
She enjoys time at home with her family and friends – organising a husband and two sons! walking her dog, researching her family tree, watching Exeter Chiefs as a season ticket holder and spending time away in her camper van with Stuart.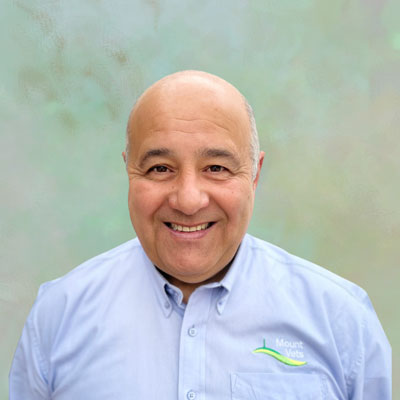 Leon
Lazarczyk
Poultry & Farm co-ordinator
Leon served as a police officer for 30 years in the Devon & Cornwall Constabulary, the majority of his career in Criminal Investigation Department (CID) attaining the rank of Detective Sergeant working in Plymouth, Mid, East and North Devon and finally in the city of Exeter. He retired in 2013 and joined the Mount Vets in July 2014 working at the Colliton Barton practice. Here at Colliton Barton as well as doing reception work and Farm Coordination he also helps our vets by doing lab work and general DIY. He enjoys family time, coastal walks, going away in his campervan, theatre and music festivals as well as supporting Cullompton Rugby Football Club.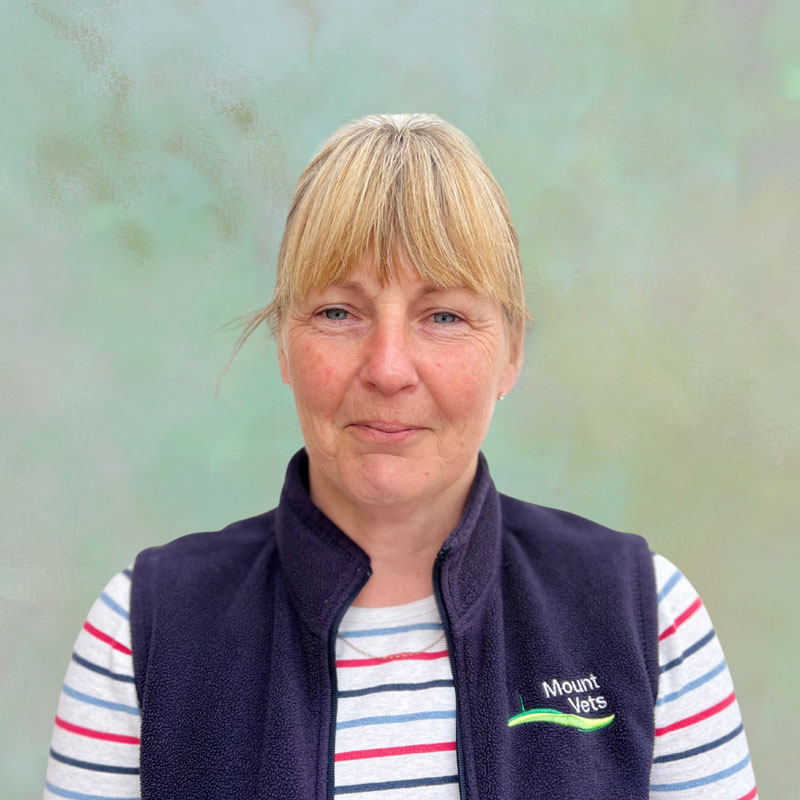 Ali
Harris
Poultry & Farm co-ordinator
Ali has been with the Mount Vets for many years. She is based at our Colliton Barton branch, where she looks after our poultry and gamebird clients. One of her main job roles is to organise vaccines for our main poultry rearing sites and ordering and sorting of the weekly vaccinations that they need; this can range from a 6,000 flock size up to 100,000 birds. Ali enjoys spending time with her young granddaughter, walking her 2 lurchers, riding her horse and going to the races.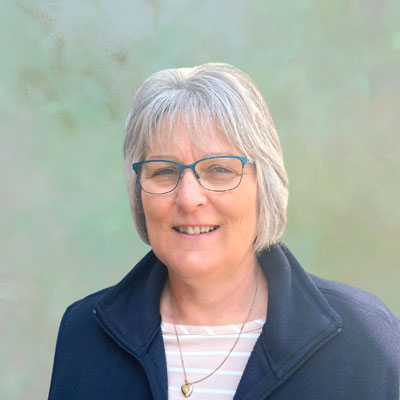 Linda
Neill
Poultry & Farm co-ordinator
Linda joined the team in February 2022. She previously worked at Blackdown Doctors Surgery for 15 years and was a store manager for Boots chemists for 20 years. She enjoys helping clients with empathy in an organised and timely manner. She's enjoyed working with the Mount Vets team so far and is looking forward to learning more. At home Linda enjoys walking her dogs, going to festivals in her VW Campervan, family holidays and spending time with her Granddaughter as well as a little bit of Gin tasting!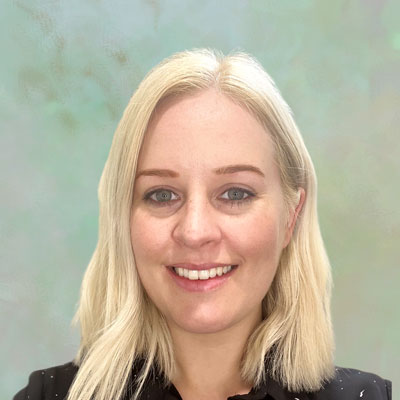 Nicole
Jales
Admin & Marketing co-ordinator
Nicole joined the Mount Vets team in January 2022 as our Marketing and Admin co-ordinator. She's here to help organise our training courses, events, marketing, and social media channels. She has a background of working on Dairy and sheep farms and studied agriculture at Bicton College, as well as previously being a Training Manager for a global skincare brand. Nicole enjoys spending time outdoors, walking and spending time with her family.